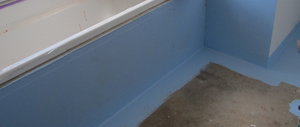 Free quotes, Prompt service, we are the fully licsensed tiler and water proofer.
Strict adherence to safety standards,
Flawless workmanship,
Complete accountability,
Full documentation for your records (insurance certificate etc.),
A complete clean-up of the area after we're finished working,
A complete 100% satisfaction guarantee on all jobs
From ceilings to fixtures, a surprisingly large proportion of the average property can be prone to water damage. Wenbin tiling and Waterproofing Sydney provides a comprehensive service, to help improve aesthetics and minimise future repair / replacement costs.
New build or Remedial work.
We can treat:
Rooftops, Platforms and surfaces, Warehouse floors, Basements, Retaining walls, bathrooms, kitchens, Balconies, Decks, Façades, Indoor/outdoor areas.